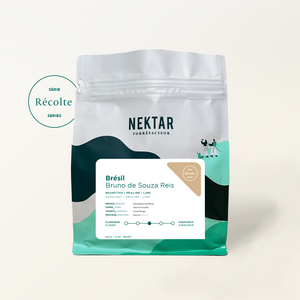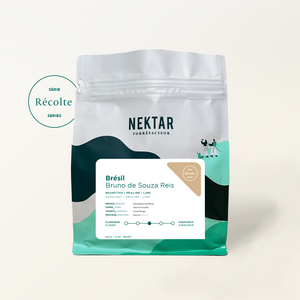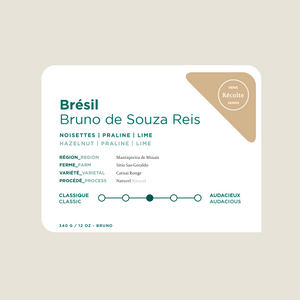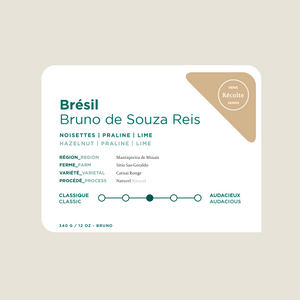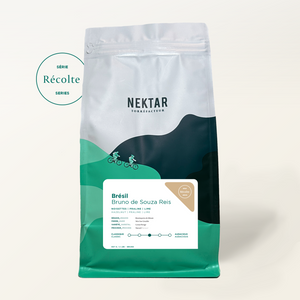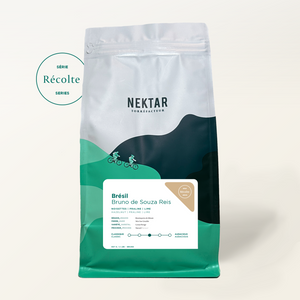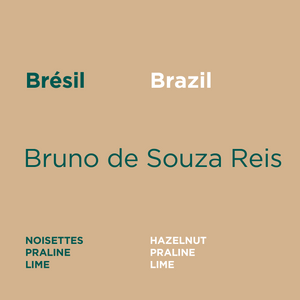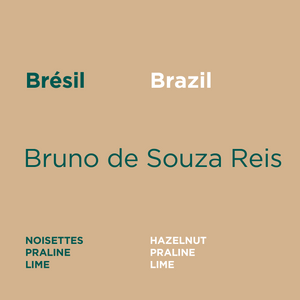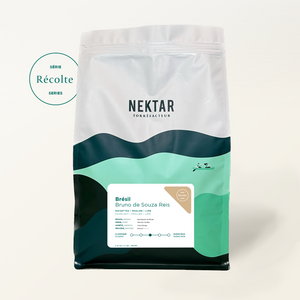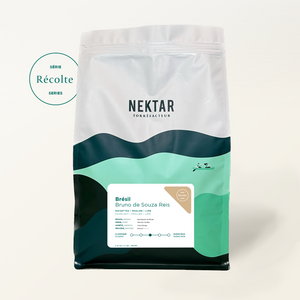 Brasil - Bruno de Souza Reis
Origin : Brazil
Region : Mantiqueira de Minas
Farm : Sitio Sao Geraldo
Cultivar : Catuai rouge
Altitude : 950-1230 masl
Process : Natural
Taste notes : Hazelnut, Praline and Lime
TASTING
This red Catuai proves an excellent addition to this year's magnificent batches of natural Brazilians. In the cup, we have an imposing body of hazelnuts and pralines, ending on a complex, tangy note of lime. Nothing too good for a terroir that usually offers us rather classic notes. The lighter the extraction, the more nuances of vanilla and sugar appear. Complex yet simple, this coffee is sure to please fans of traditional beans, with the audacity to convince even our adventurous folks!

ORIGIN
In the Mantequeira de Minas region, Bruno Souza de Reis takes a fresh look at the coffee harvest at his farm "Sitio Sao Geraldo". Having inherited a share of his grandfather's farm, as well as 1,800 coffee trees, Bruno discovered a growing passion for coffee and its production. Since 2013, he has been gradually offering up to 150 bags of premium coffee per season! His determination to overcome bad weather and other production hardships has made him a producer much appreciated by his buyers!
DRINKING
A tasty, sweet filter coffee, a defining espresso. The body is mainly hazelnut and praline, a very classic tone that ends with a well balanced acidulous finale. Lime, to be precise. Classic? Bold? Why not both? Aim for a traditional extraction and the beans will speak for themselves. An aromatic cup that has nothing to envy of more extravagant coffees, and a latte enhancer like we love them. Let's insist on espresso, let it speak in a batch brew and, of course, lattes are a go-to.

Brewing parameters :
Dry coffee : 18.5 grams
Wet weight : 37 grams
Time : 28-30 seconds
Water temperature : 200° F (93° C)