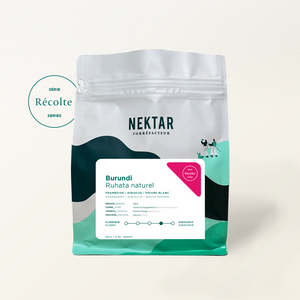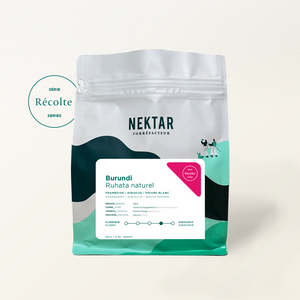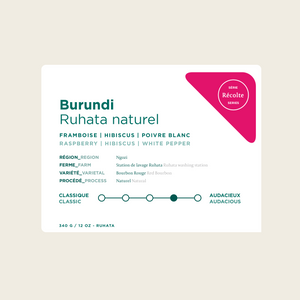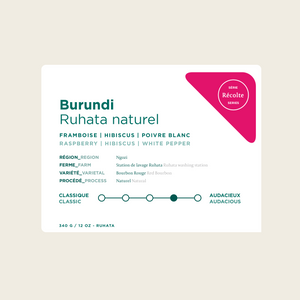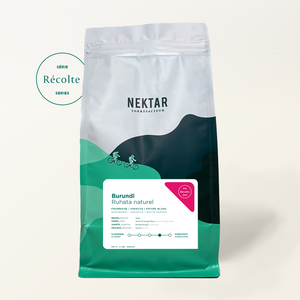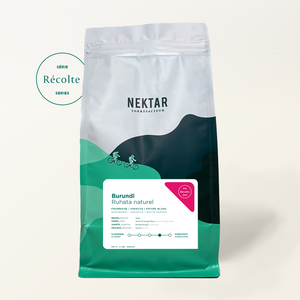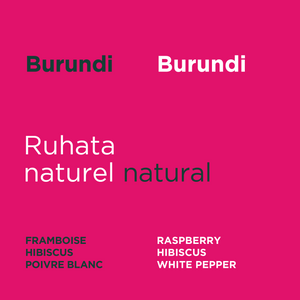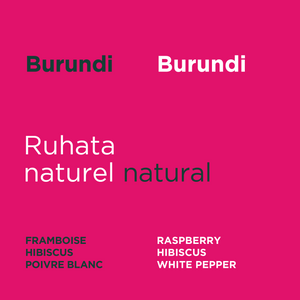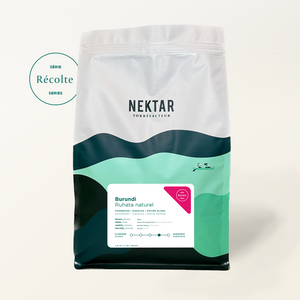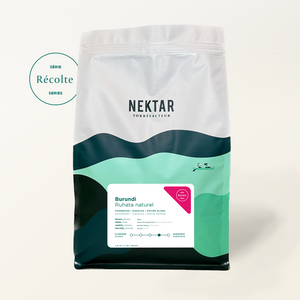 Burundi - Ruhata natural
Region: Ngozi
Farm: Ruhata washing station
Cultivar: Red Bourbon
Altitude: 1680 - 1800 m
Process: Natural
Taste notes: Raspberry, Hibiscus, White pepper
TASTING
The Ruhata is a superb natural coffee from Burundi that offers a fruity, delicate cup of exceptional clarity without any trace of winey fermentation. The notes of fresh raspberries are perceptible from the very first sip and accompany us throughout the tasting. In retro-olfaction, floral and subtly peppery aromas bring an interesting complexity. This is a coffee that orders a second cup as soon as the first is finished.
ORIGIN
Located in the province of Ngozi in northern Burundi, Ruhata is a washing station owned by Pierre Claver Gahungu. Pierre is a retired customs agent who decided to come back to his native village and take over his family's land to convert it into a coffee farm and washing station. He grows 25,000 red bourbon trees across 12 hectares of land and also runs the washing station where he processes his own cherries along with the cherries from 50 other growers. After sorting, the coffee cherries are spread out on raised beds to dry for 25-40 days.
DRINKING

The Ruhata Natural is perfect for drip coffee, manual infusions, short espresso or americano. Its fruity and juicy side also makes it ideal for preparing iced coffees whether cold brew, yama tower, v60 on ice or iced espresso.