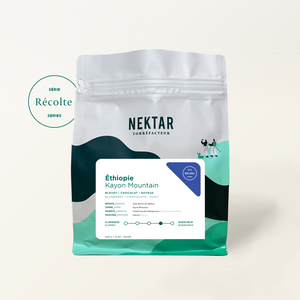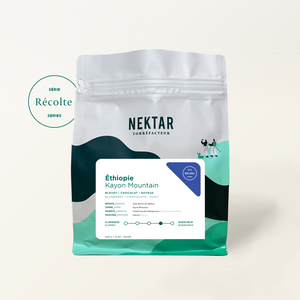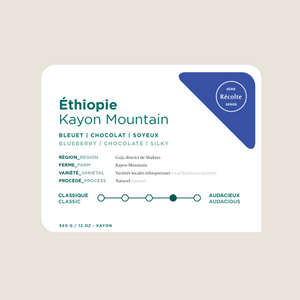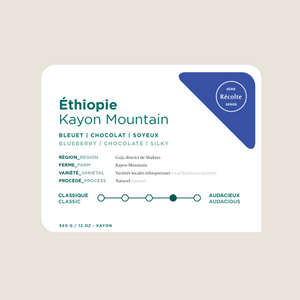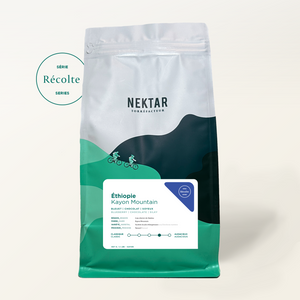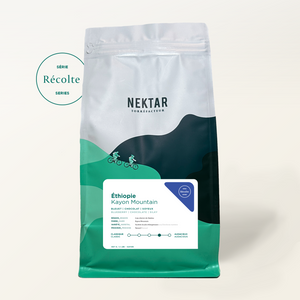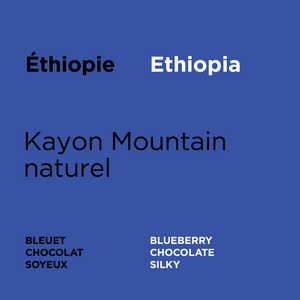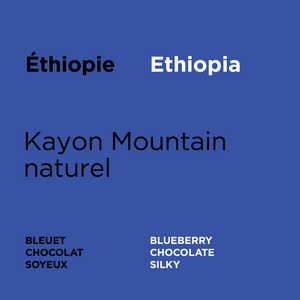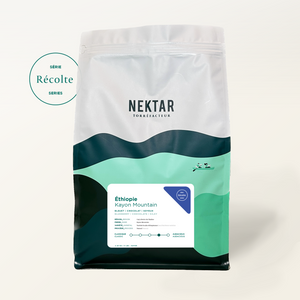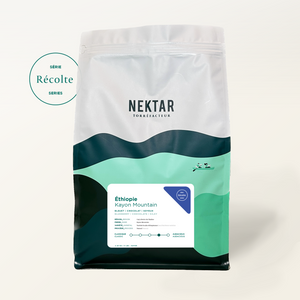 Ethiopia - Kayon Mountain
Origin : Ethiopia
Region : Guji, Shakiso District
Farm : Kayon Mountain Coffee Farm
Cultivar : Local Ethiopian Varieties
Altitude : 1 900 - 2 200 m
Process : Natural
Tasting notes : Bluberry, Chocolate, Silky
TASTE
Kayon Mountain is a proud representative of what a natural coffee is in Ethiopia. At nose, we perceive a wave of blueberry right from the start of the infusion, and the first sip envelops us with a touch of chocolate, reminding us of the "Brookside" sweets, those delicious chocolate-covered blueberries. A silky body and straightforward simplicity make Kayon Mountain a natural Ethiopian as we like them here at Nektar.
ORIGIN
Kayon Mountain is the opus of Ismael Hassen Aredo who, since 2012, has owned a 500-hectare farm, 300 of which are covered with coffee trees! With his community at heart, Kayon Mountain Coffee Farm partakes in the construction of schools and administrative buildings in the Guji region. Seeking to improve conditions for their 300 seasonal employees, they offer competitive wages and seek to promote meticulous work to which the right method is associated, enabling the production of exceptional batches, natural as well as washed.

DRINKING
An all-rounder! This tasty coffee comes in all shapes and sizes, with the charm of a fruity coffee! The filter extraction will convince any hesitant to step out of their comfort zone with a full-bodied, juicy cup and a marked blueberry presented in a milk chocolate atmosphere. Espresso raises the bar for traditional extraction! A 1:2 ratio brings you a delicious, smooth and balanced double-short. The flavors never change, Kayon Mountain wears the clothes of Ethiopia no matter what the circumstances. It's sure to complement your lattes with a bold wave of comfort!
Espresso parameters
Coffee in : 18.5g
Coffee resulting : 37g
Time : 26-28 sec.
V60 parameters
Coffee in : 15g
Coffee resulting : 210g
Temp : 190° F (88° C)
Pour first 110g. Wait 1 min, pour another 50 g, wait 30 seconds and then pour the remaining 50g. The drawdown should finish around 3min.