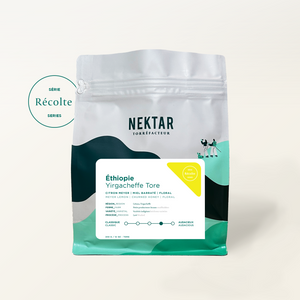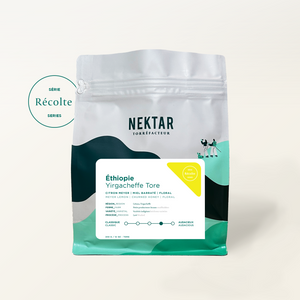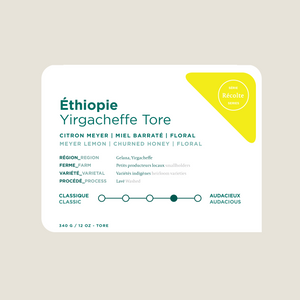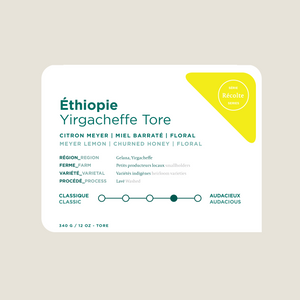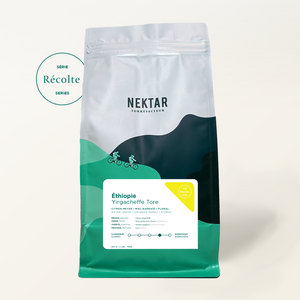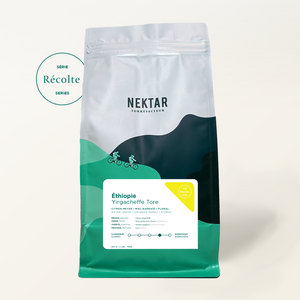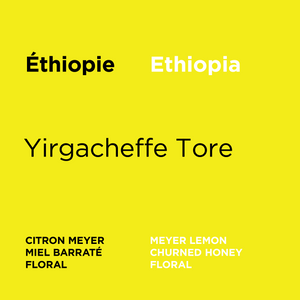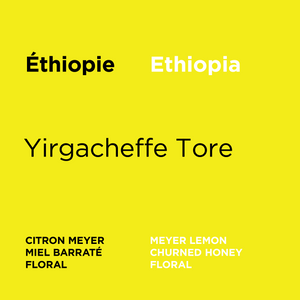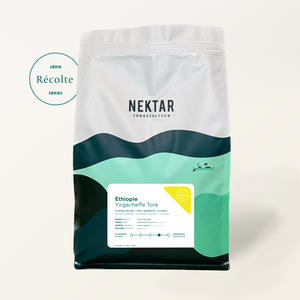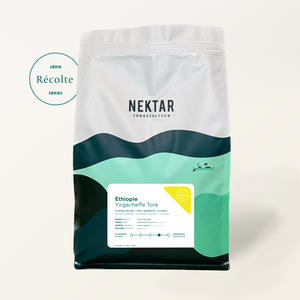 Ethiopie - Yirgacheffe Tore
Origin : Ethiopia
Region : Gelana, Yirgachefffe
Farm : smallholders from the Gelana district
Cultivar : Local heirloom varietals
Altitude : 1 700 - 1 900 masl
Process : Washed
Taste notes : Meyer Lemon, Churned Honey, Floral
TASTING
Tore is an impressive floral coffee with a honeyed taste. It offers us soft lemony notes with a delicate and sweet tone from the first sip. A fascinating atmosphere that allows us to discover a deep churned honey flavor at the heart of the cup. Floral wafts pierce through the honeyed aroma to make way for a finish worthy of the washed Ethiopians we love.

ORIGIN
Native to Ethiopia, the Tore is assembled at the station of the same name, located in the Gelana district and part of the greater Yirgacheffe region.

DRINKING
A manual V60 pour-over will present the Tore in a stunning manner. It will captivate you delicately, reminding you that it wears its flavors just as well when brewed over ice. The espresso is unparalleled in its sweetness, floral and tangy, setting the honeyed tone to create a comforting latte without any bitterness.

V60 Parameters :
14g of coffee in, for 200g out
First pour 100g, wait 20 sec.
Pour 40g in a circular form, then finish the remaining 60g in center.À
Wait 20 sec then pour another 100g.
Discard the filter, swirl the coffee and serve.

Espresso Parameters
19.5g of coffee for a result of 39g
Extraction time: 22 à 26 sec.