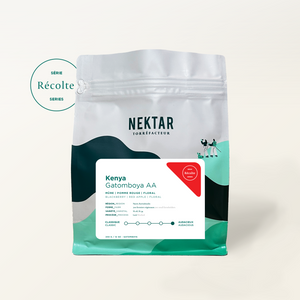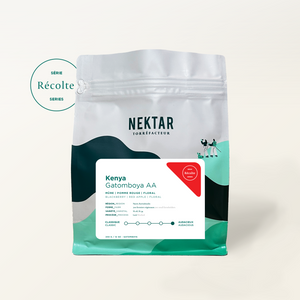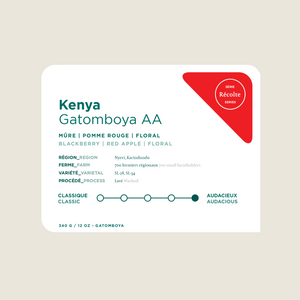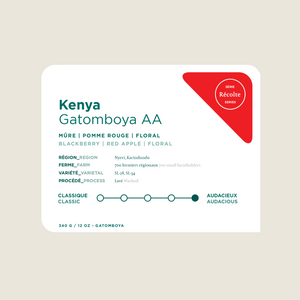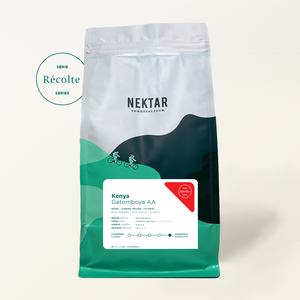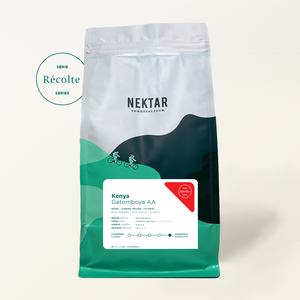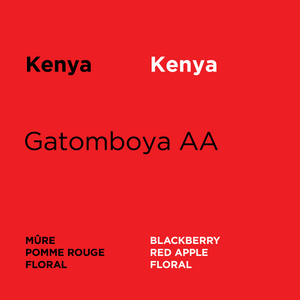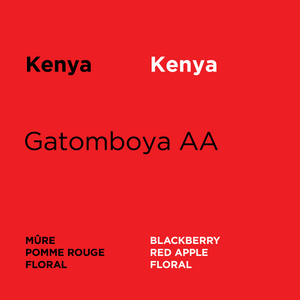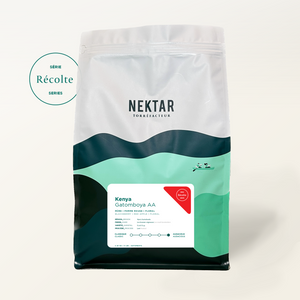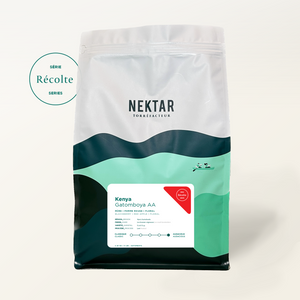 Kenya - Gatomboya AA
Origin : Kenya
Region : Nyeri, Karindundu
Farm : 700 small farmholders
Varietal : SL-28, SL-34
Altitude : 1700-1800 m
Process : Washed
Tasting notes : Blackberry, red apple, floral
TASTING
The return of Gatomboya: vibrant as ever! This year, we have a Kenyan batch that showcases its terroir with unrivaled vibrancy. The blackberry aroma assails us as soon as our lips touch it. The body of the cup has a clarity that reminds us of the reputation of the SL-28 cultivar. Red apple notes decorate the palate as the experience progresses, and we're left with an enormous amount of sugar on our molars at the end of the sip. What could be better than a washed coffee that juggles delicacy with a tangy edge, not forgetting the floral notes that come through at the end of the tasting as the cup approaches room temperature.
ORIGIN
The Gatomboya AA batch was processed at the Barichu co-op from October to January. Sourced from 700 local farmers, the coffee cherries were fermented for approximately 72 hours, washed and then dried on raised beds for 7 to 15 days.

DRINKING
Back to basics, take out your favorite V60 or manual filter! The preference of a coffee like Gatomboya is a filter. A tasty cup that you can't get enough of, without even adding anything to it. It's the sugar naturally present in the cup and its tangy side that makes it a coffee to be taken as it is! We suggest the "allongé" version for espresso with this batch from Kenya. This will allow adventurers to explore the red apple aromas in all its splendor, without the uncompromising "punch" of the 1:2 espresso shot that Gatomboya would deliver.Please note, for all espresso-based drinks, we strongly recommend replacing cow milk with vegetable milk.

Brewing parameters :

Manual filter (V60/Kalita):
14g of coffee for 200g resulting in the cup
0:00 - +100g
0:45 - +100g
Divide pours in two, for a 60g circular pour and a 40g central pour.