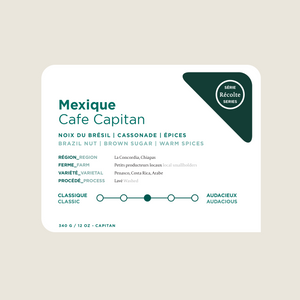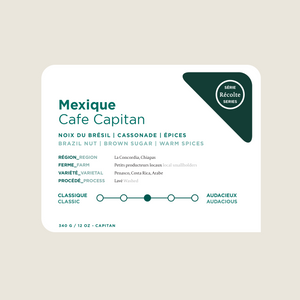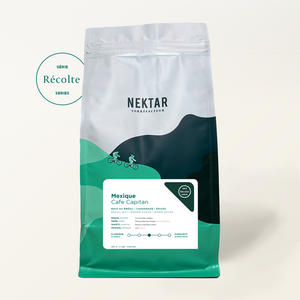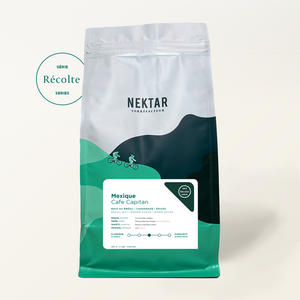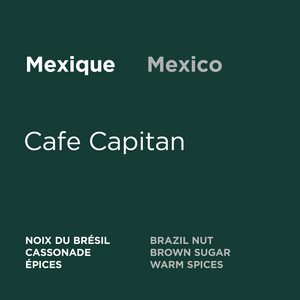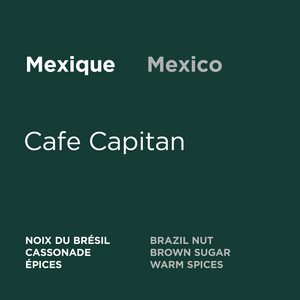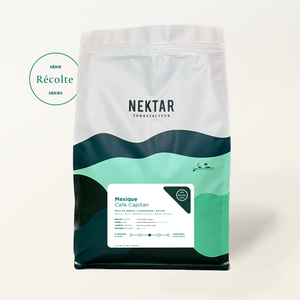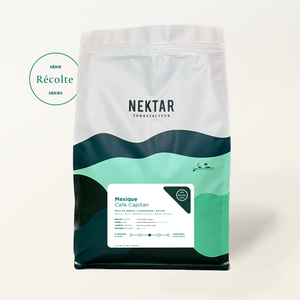 Mexico - Cafe Capitan
Region : La Concordia, Chiapas
Farm : Local smallholders
Cultivar : Penasco, Costa Rica, Arabe
Altitude : 1 400 - 1 700 m
Process : Washed
Taste notes : Brazil nut, Brown sugar, Warm spices
TASTING PROFILE
A Mexican coffee offering comforting aromas! The body is nutty and smooth, releasing abundant brown sugar notes with every sip, while vibrant spices perfume the cup from the moment it's brewed. This classic and generous batch showcases Mexico in its most refined expression, free from bitterness or acidity. This well-balanced coffee is sure to please traditional coffee lovers and pleasantly surprise newcomers!
ORIGIN
The Cafe Capitan is a blend of three different coffee cultivars harvested in the municipality of La Concordia, Chiapas, Mexico. Small growers in the region combined their respective 1 to 2 hectares of coffee trees to create a washed batch, fermenting the beans for 12 to 20 hours before drying them on palm mats for 10 to 15 days.
DRINKING
We've crafted this batch with the goal of creating the finest traditional filter coffee. While we highly recommend using a filter to experience the full range of flavors this coffee has to offer, it's worth noting that it's equally delightful as an espresso. The body is juicy, evoking the essence of an unfamiliar reddish fruit with warm, nutty undertones. In the initial sips, subtle notes of spice, reminiscent of allspice and nutmeg, gradually yield to a brown sugar finish—a warm conclusion that excels in any setting.
Espresso parameters:
Ground coffee : 18.5 g
Resulting quantity : 37 g
Extraction time : 30 sec
Help me choose the right grind.