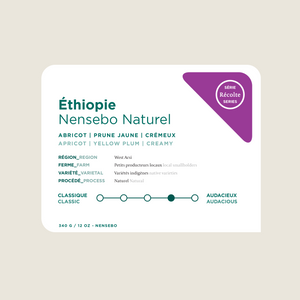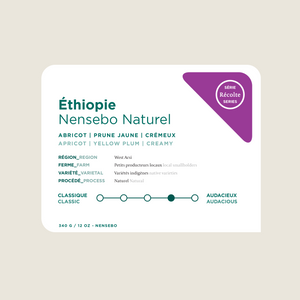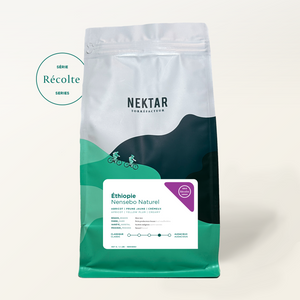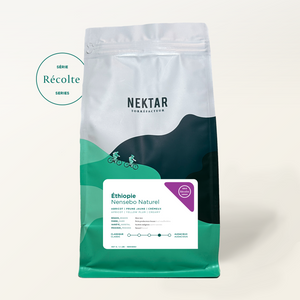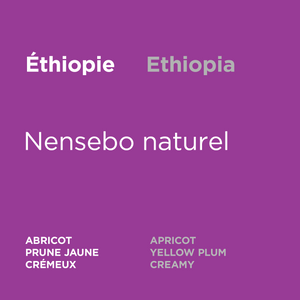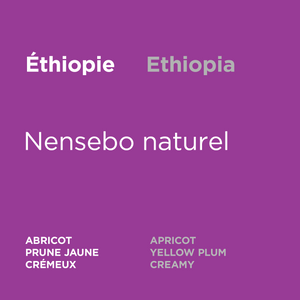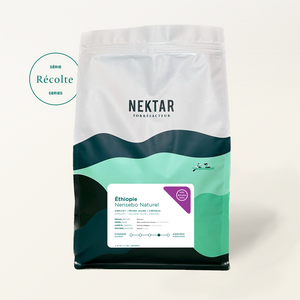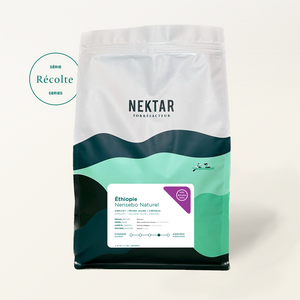 Ethiopia - Nensebo Natural
Region : West Arsi
Farm : Local smallholders
Varietal : Heirloom Ethiopian varieties
Altitude : 1 900 - 2 050m
Process : Natural
Tasting notes : Apricot, Yellow plum, Creamy
TASTING PROFILE
A natural Ethiopian with notes of stone fruit, what a joy! A cheerful, fruity coffee that effortlessly shines in every preparation style. From espresso to French press, this batch offers a velvety, creamy texture akin to peach and cream yogurt. The final notes are reminiscent of jasmine potpourri, so see if you don't finish your cup before it's unveiled!
ORIGIN
The Nensebo batch, from the Testi West Arsi station, underwent fermentation for 24 to 48 hours before spending 12 to 15 days drying on raised beds. This high-altitude washing station enjoys subtropical climates, enabling the development of very pure, elegant characteristics in its coffees.
DRINKING
Embark on an olfactory adventure with this coffee, where espresso takes the spotlight! Firstly, for its creamy body, and secondly, for the delightful combination of sweet, vinous acidity paired with apricot and yellow plum aromas that will even enhance your latte. This coffee is equally enchanting when enjoyed as a pour-over, allowing you to delicately explore its various aromatic profiles. It promises a delightful experience for your senses and a creamy texture with every sip!
Espresso parameters
Ground coffee: 19g
Result: 38g in 24-26 sec.

V60 Parameters
Ground coffee: 14g
Result: 200g at 91 degrees Celsius

Help me choose the right grind.