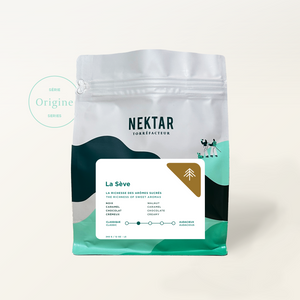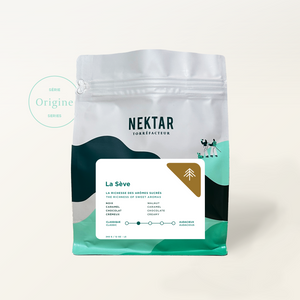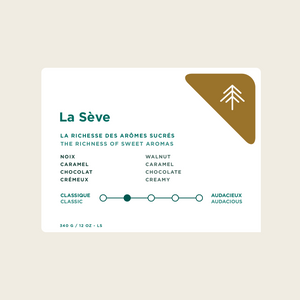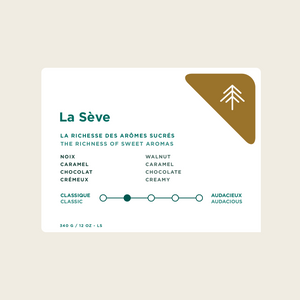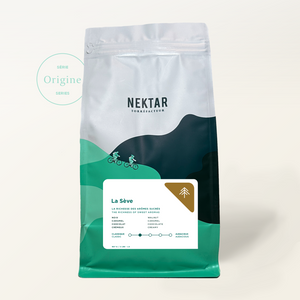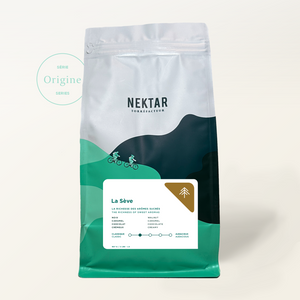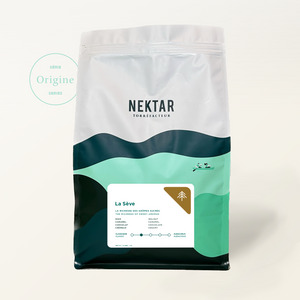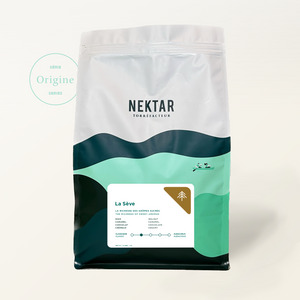 La Sève
The richness of sweet aromas
Region: Brazil & Colombia
Cultivar: Many cultivars blended
Taste notes : Creamy, chocolate, caramel, walnut
TASTING
When we started the roasting shop, we wanted to create a flagship blend. An espresso blend that would be our best seller. After 10 years of selling other roasters' coffees in our branches, we knew what we wanted. We were looking for notes of caramelized nuts and milk chocolate. An espresso that was easy to like, without bitterness. Mild, not too full-bodied, slightly daring. As much for the mainstream as for thirdwave.

We can say mission accomplished, it's our best seller for more than two years!

You will have in the cup a beautiful texture; it is created to give a lot of crema. To taste: an attack of nuts, sweetness, and a chocolaty finish.
ORIGIN
This coffee is a blend of two origins: Colombia and Brazil. We work closely with two producers to obtain results that meet our expectations.

Colombian coffee gives us the typical sweetness. It comes from a Quebec farmer who has a coffee farm in the Huila region.

Natural coffee from Brazil gives us the texture for crema, caramelized sugar and chocolate. It is the farmer Jose Maria who provides us with his naturally dried beans. The same one who allowed us to offer you the Para ela harvest.
ROASTING
This blend is not dark roasted. We want to keep the complexity, to find the sweet side, without the smoky or bitter cocoa side.

It is a little more developed than our Récolte Series coffees. Enough to make the coffee porous, for a maximum gain in texture.
DRINKING
Specially designed for espresso, from the simple short to the large latte. It is the house coffee of the Nektar Caféologue. The everyday coffee to start the day with a pleasant kick.

It is also the coffee with which we make our famous cold brew recipe.

It is a blend that is easy to extract. You will obtain a beautiful result, no matter the quality of your machine.

Brewing parameters :
Dry coffee : 18.5 grams
Wet weight : 32 grams
Time : 30 seconds
Water temperature : 200° F (93° C)