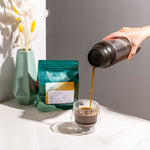 In this article, you will find 3 cold brew recipes to make great iced coffees this summer!
Most of you are probably already familiar with caffeinated beverages made with hot water, such as espresso and filter coffee. Did you know that there are many other ways to make coffee? Today we decided to introduce you to one of these lesser known brewing techniques, the cold brew.
This method originated in Japan and has been used for hundreds of years. Rather than using hot water to extract the flavours of our coffee beans in a few minutes, we prepare it with cold water and leave it to infuse for 12 to 24 hours, or even 36 hours in some cases. During the brewing process, depending on the result we want to obtain, we can leave the carafe at room temperature or refrigerate it.
The result? A beverage that is super smooth, full of flavour and to which a little milk or even simple syrup can be added. The heat from the hot water traditionally used to brew coffee creates a distinct taste profile. You will have a totally different experience if you make an espresso or a cold brew with the same bag of coffee.

What you will need to make one of our cold brew recipes:
| | |
| --- | --- |
| | A bag of coffee (we suggest La sève ou Les cascades), Cold Brew 8.5 grind if ordered on our website or medium to coarse grind if you use a grinder at home |
| | Fresh tap water |
| | Cold brew coffee carafe Kinto Capsule |
Our top 3 cold brew recipes
| | | |
| --- | --- | --- |
| Concentrate | Classic ready-to-drink | Refreshing ready-to-drink |
| 100 grams of coffee | 54 grams of coffee | 70 grams of coffee |
| 24h to 36h | 8h to 18h | 18h to 24h |
| Maximum water (just under 1L) | Maximum water (just under 1L) | Maximum water (just under 1L) |
| Brewing at room temperature | Brewing at room temperature | Brewing in the fridge |
Additional option: with the concentrate recipe, you can make a Cold Brew Latte by adding a touch of milk and liquid sugar. For the full experience, try the version with chocolate milk called Fudge Brew at Nektar.