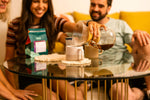 If you are here, chances are you have an interest in coffee. First of all, we want to welcome you to the world of Nektar Coffee Roasters and congratulate you on your curiosity to learn more about the wonderful world of specialty coffee.
Before getting to the heart of the matter, a short presentation of Nektar is in order. Since 2009, our goal has been to introduce the world of specialty coffee to the general public. First, we did so by showcasing more than twenty roasters in our first location in the St-Roch district of Quebec City. A few years later, in 2018, we began our adventure on the roasting side, in order to offer our customers even more exploration, our vision and our DNA. If you want to learn more about us and our approach, we recommend you read this.
Nearly 13 years later, our goal is still the same: to offer our customers a discovery experience that is free of prejudice. This article is part of that approach, as we know that taking the leap to specialty coffee can be intimidating. That's why we're here to guide you through the process so you can make an informed choice about what's going to be in your cup every morning.
Which coffee should you try first?
To begin with, there is no good or bad coffee to try first. It really depends on your personal preferences. The real question to ask yourself is "how do I plan to prepare and drink this coffee?"

Generally speaking, the filter and the espresso will be the two preparation methods used at home.
Are you more of a tall, comforting latte type or do you fancy a simple filter coffee?
I'm the tall latte type
For a large latte, a more classic and intense coffee is preferred so that it can handle a good amount of milk. The ultimate goal is to be able to taste the coffee, otherwise you would only drink a glass of milk. If you recognize yourself in this type of beverage, we recommend trying L'ours noir. This is a rather intense and classic blend from our Origin Series. This series is our permanent line of coffees designed to create a specific taste and flavour experience that is more similar to what you would find in the mainstream market.
If you feel like exploring a little further, in this same series there is another blend that is slightly more daring than L'ours noir: La sève. This is our signature blend and is the one we serve in our 3 locations for all our espresso-based beverages. Its sweet nutty, caramel and chocolate notes, as well as its creaminess will please many of you. It is an easy to drink coffee for both espresso and latte.
Want to take your daring to the next level? We highly recommend trying Le draveur. Slightly more acidic than chocolatey, this coffee can be the ideal entry point to continue exploring our Récolte Series coffees. It is the perfect coffee to drink without milk or sugar.
Are you more of a filter coffee person? This section is for you!
If you would rather drink your coffee in a filter version, we suggest L'été indien. This is our classic filter at Nektar. This blend is the one we serve as a filter coffee in all our locations and it is an easy to prepare coffee. This is a great bean if you're just starting out in the world of specialty coffee and you like to drink your coffee as a filter rather than an espresso. L'été indien will go very well with milk and a little sugar, if that's your way of drinking your coffee.
Ready to explore further? Check out our Récolte Series!
This series has been developed to showcase one farm at a time in order to present the different qualities of the terroir and the coffee grower. Some of the tastes are specific and some are more surprising. It is usually less "round" in the mouth than a blend. In this series, we present coffees from around the world using different drying processes and roasting profiles.
Some tips for preparing your coffee
One of the most important aspects to get the best results from your coffee is to prepare it with certain ratios. We have prepared several preparation guides for different brewing techniques. You will also find on each coffee sheet on our website, the parameters to extract an espresso at home.
All these parameters and techniques are designed to give you a very interesting experience with your coffee. Perhaps you will even feel like you are rediscovering coffee.
One of the most common mistakes is not putting enough coffee and putting too much water. The result will usually be a rather tasteless and very clear coffee.
Another way to ensure the ultimate coffee experience is to have the right grind. If you don't have a grinder at home, feel free to have your bag ground directly in one of our branches. We are equipped with grinders suitable for most brewing methods and most espresso machines. Please avoid the famous spice grinder at all costs. This type of grinder will not only not give you the right grind, but will also heat up the coffee and give you a totally different experience.
Are you ready to begin your adventure into the world of specialty coffee?
In order to accompany you in this adventure, we offer you our Discovery Sets. These sets have been designed to allow you to discover 4 coffees at a time, in small quantities. They are available in two versions: Origin Series and Récolte Series.
A little reading to learn more about the world of specialty coffee