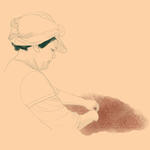 We have just launched a new coffee, Para Ela from Brazil, and we owe it to you to tell you a little more about it since it is not only a wonderful coffee, but also a community project initiated by José Maria, our partner from Brazil.
We have been working closely with José Maria, a producer located in the state of Minas Gerais in Brazil for 2 years now. We currently have several batches of coffees from José Maria's farms that we integrate, in different proportions, with other coffees within our Origine Series blends such as La Sève, L'Ours Noir and Le Draveur.
However, we have not only chosen this producer because of the exceptional quality of his coffee, but also for his social involvement and his desire to develop his local community of Campos Altos, the town where his farms are located.
Para Ela is precisely a community project that aims to support women in coffee growing near this municipality. Para Ela, means "for her" and represents a harvest picked by hand and processed exclusively by women who received remuneration 50% higher than the regional average.
Picking and sorting by hand helps perfect each harvest and creates special microlots that each time showcase the work of project members.
The financial disparity between women and men in Brazil was at the heart of this initiative.
The Nektar has been promoting sustainable development in producing countries since its beginnings in 2009. Since we have been a roaster, we have done everything in our power to establish partnerships with producers who respect our various selection criteria and we favor those who go. further into involvement with their community.
You can help encourage this movement by trying the Para Ela on your next online order or on your next visit to a branch!